Summer School Distance Learning Reading Activities
If you're teaching summer school, this distance learning reading activity is perfect for your class! Use this free, Google Forms reading activity to keep your students engaged this summer. Click here to get it!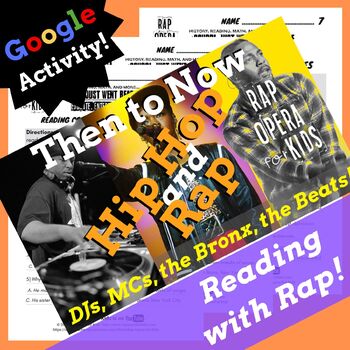 Keep your students attention using Hip Hop and rap music history to practice context clues skills. Students can also use the song as a read-aloud and slow down the song for easier listening and comprehension. The entire activity is paperless and self-grading to save you time.
If this sounds like a great way to engage your students, check out this summer school, distance learning reading bundle that covers Disney movies, superheroes, and Hip Hop history. These activities use Google Forms and are paperless and self-grading.
This is the ultimate way to provide a variety of engaging topics and reading activities for your students while keeping the learning fun! This bundle uses songs about pop culture topics such as superheores including the Black Panther and Spiderdude (a Spider-Man parody), the history behind the Disney Moana, Mulan and Frozen movies, and the history of Hip Hop and rap music. Check out some of the songs below!
This bundle also covers a variety of important reading skills such as main idea and supporting details, synonyms and antonyms, compare and contrast, root words and affixes, and many others. Get it now and keep your students engaged with learning this summer!
Thanks for reading! More great content is coming next month! Until then, happy teaching! And remember to get your monthly freebies using the form at the top right!